Over on the message board at BackPorch Memories I've been fishing for tips and ideas for the scrap space at my new house. My hubby is letting me put custom cabinetry in and it's freaking me out! I'm soooo excited, but I'm also nervous! It's such a permanent thing that I don't want to mess it up. I need your help in thinking of features and details that would be fun to include.
Here's the catch! We meet with the cabinetry guy on Monday morning to go over the plans for each room. Aaaaaagh! I know he'll have me something to "proof" later on, but I don't want to be the lady that has to have it completely redesigned because I forgot to tell him this . . . oh, and could you add that? Heh, heh, heh.
Soooooo, besides lots of shelves and drawers for paper/embellies, what little details would you incorporate if you could?
****************************************************
I bought a room planning program from BH&G to help me visualize certain rooms in our new home. Would you like to take a tour of my new Scrap Room? :)
Okay, here we go! Show-and-Tell of Jana's planned scrap space. LOL!
This is the overall floor plan of the space. Funky isn't it? :) The main area is 11' wide by 12' deep. The Bonus area to the right is 9' X 7.5' and steps up six inches from the Main area. The area to the left will be my Messy area for stamps and paint. It is 7' square. It was originally a walk-in closet for this odd-shaped bedroom, but I had them take the wall out to make it more open.
This is a view of the Main section from just inside the doorway. I couldn't figure out how to make the ceiling look pitched (it goes up about 12' into a pitched vault. I will have lots of can lights and a cute chandelier hanging from the center), so they are just flat in this photo. The cabinets are a generic graphic from the program just to give me a general idea of what the room will look like. The french doors are on the west side and go out on a little balcony (my room is on the 2nd floor) that is just for looks, maybe two feet deep. It will atleast be nice to see the kids riding their bikes from my room while I work. I decided to face my desk the way it is so I wasn't looking directly into the sun as it was going down . My computer will go on the East Wall. The flat gray box is there to represent my cutter. I think I will have the hole in the counter on the side towards the wall.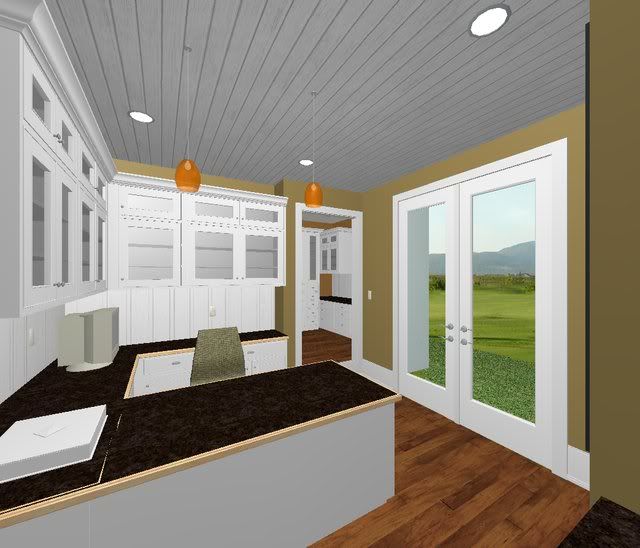 Here is the view of the main area from the bonus room doorway. The frame on the wall represents my large framed magnet board. I have one now and LOVE it! It's so great to hang things up on and stare at for awhile when I'm trying to decide if my layout is finished or not.
(ETA: I forgot to mention that wherever there are chairs (and underneath the computer area) it will be open for legroom, . . . I just couldn't figure out how to make it that way on the program.)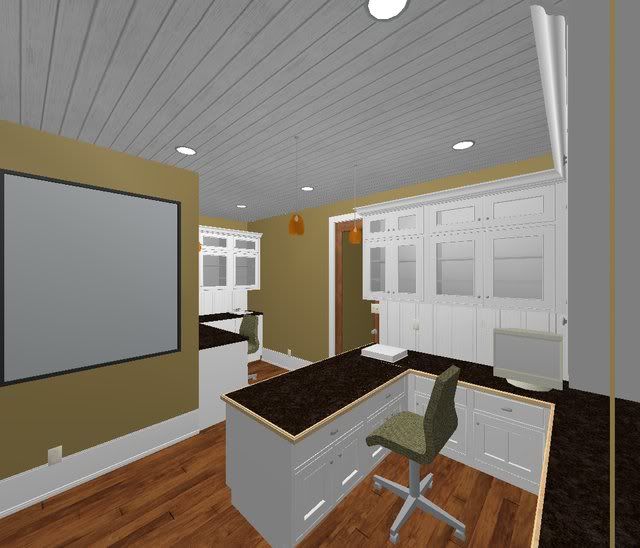 This is the view of the Messy Area from the Main desk area. I decided to keep all the cabinetry at counter height. I am going to put a stool in this area to work at. I think it will also be a popular place for my kids to congregate and do their homework while I am working on my projects. :) The window is a little off-center in this space (it's centered on the wall outside). But I think the space to the left of the window will be perfect for setting up my Clip-It-Up. :) The sink will come in handy for paint and stamps.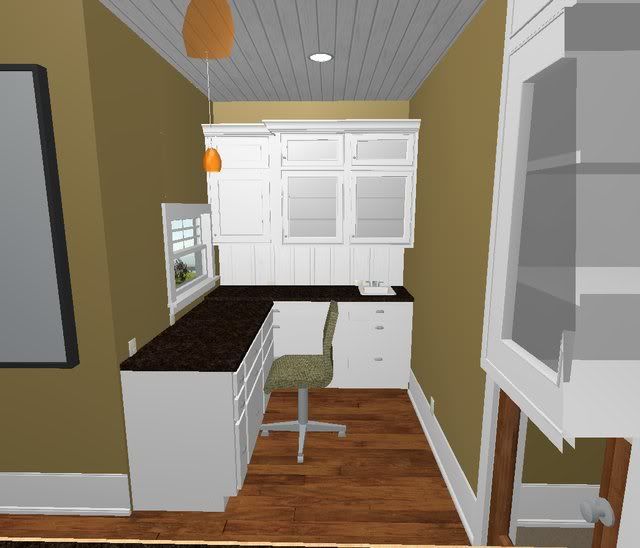 Okay, last one (if I haven't bored you, already :lol:). This is the view of the Bonus room. It steps up from the Main area because it is located over the front porch. I have no idea of how I'm going to do cabinets in this part. I just plopped in a few graphics to see what I thought. I definitely will do a counter under the window. I think it will be a great place to put my cuttlebug and general paper storage. Maybe put a bunch of drawers in, so I can keep my embellies organized by color in each one. ???
So there is my little tour. Any more suggestions now that you've seen it? :)