Yesterday was so much fun! I was invited to My Scrapbook Zone in American Fork, Utah, to teach a Make & Take for Adornit in honor of the store's One Year Anniversary. It was so much fun to cozy up inside from the rainy/snowy weather and hang out with some new scrapping friends!
If you or someone you know is in search of some great, simple page kits, that take all the guesswork out of making a layout, be sure to visit My Scrapbook Zone's online store.
http://www.myscrapbookzone.com/index.php?main_page=index
They sell a huge variety of page kits and always have them in stock to ship right out to you.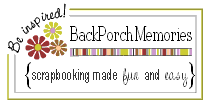 On another note, I have a little TOOT to share! I won the November Guest Designer Contest at Backporch Memories!!!!! WOOHOO!!!!
This weekend I received the Medley Kit to design with as well as the stamps and some Add-Ons and, PEOPLE!, all I have to say is RUN, DON'T WALK! to get yourself one of their gorgeous kits for November. They are FABULOUS!!!!! Here is a link to the sneak peeks of both the Solo and Medley kits.
http://www.backporchmemories.com/sneakpeek.htm
Seriously! These pictures don't do them justice. You are going to WANT to order this kit! And CHECK OUT THOSE STAMPS!!!! Ooooo La La! I can't wait to dig into this baby! The paper lines I get to play with are We R Memory Keepers Whiteout-Explore, FooFaLa Indian Summer, and Heidi Grace Paradise Point. The Solo kit will feature We R Memory Keepers Whiteout-Promenade. GORGEOUS stuff!
Until next time! Scrap on, people, scrap on! LOL!