It's friday! Woot! Woot! Are you gearing up to celebrate with your family this weekend?! Happy 4th of July to all my States-Readers!!! :D :D :D

Friday, also means that I have another Scrapperie Sketch to share. :) This one incorporates a large circle element that fills the entire page. Have fun with it!




Guess what else? Scrapperie has reactiviated it's blog and now you can go there everyday for tons of challenges, inspiration, sketches, and more! Be sure to take some time to check it out! :D :D :D

Did you see this month's kit?! The English Garden kit! :D :D :D Well, in case you didn't, I thought I'd take some pictures of my Piece de Resistance kit that just arrived on my doorstep for you. Mmmmmm! Pretty! :D :D :D I love all the manufacturers in this one! Cosmo Cricket, Crate Paper, Sassafras Lass, Jillibean Soup, K & Company, Scribble Scrabble, Prima, Pebbles, Inc., Maya Road, and even some adorable butterfly stickers from Jolee's. Ummm, yeah! This kit is a keeper!!!! :D :D :D




******************************************

This week I got the BEST email!!! An email inviting me to be a member of the Shimmerz Design Team!!! Eeeeeek!!!!!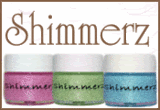 I can't tell you how excited I am about this opportunity! I have recently developed an obsession for spray inks and the Spritz's by Shimmerz are DA BOMB!!!! They come in so many FANTASTIC colors and are as sparkly and gorgeous as can be!!! If you aren't a spray ink gal, you can get your sparkly fix with their sparkly paint pots called Shimmerz and Blingz. YUM!!! What girl doesn't like a little sparkle?!!! You can check out their products and website here.




So be on the lookout for some shimmery projects from me! :D :D :D

On top of that, they have a blog that is filled with GORGEOUS projects using these products by an A+ design team. I truly feel honored to be alongside these gals! It's going to be fun! Thank you so much, Stacey and Danielle, for this opportunity!

Okay! Well, we are off to celebrate Miss Camryn's 3rd birthday and the 4th of July weekend! Have a safe time!

Jana