There are times I wish I knew HOW or WHY my favorite scrappers made decisions as they created a page. Especially when I first started out . . . I wanted to know why someone chose that paper, or how they came to the conclusion to add a certain accent. So, for my Kit Workshop today at
Urban Anthology
I thought I would take you step-by-step through my Thought Process as I create a page using the May '09 kit.
So here ya go! If you're interested, read on. :) If not, skip to the end for the final product! LOL!!! Thanks for coming by!
*****************************************
1) After I have decided which pictures I am going to scrap, I will hold them up to several pieces of patterned or solid papers to decide which one they look best against. This will be the paper I will mount my photos to, and then I work backwards through the layers from there.
These are pictures of me as a baby. Naturally, I first thought of something pink. Baby girl = pink, right?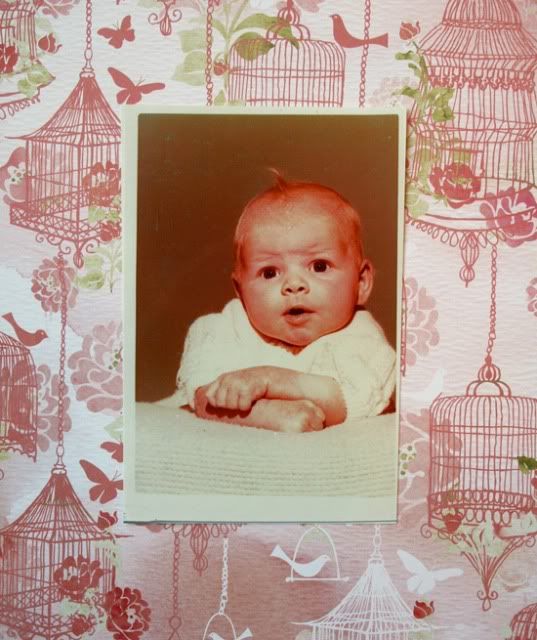 Because these are older photos, they have a pinkish-yellow tint to them. When I put them up to this paper, it seemed to magnify that tint, and that is not what I wanted to do.
I used my knowledge of the color wheel and decided to next try the complimentary color to pink (or red); GREEN, to tone down the pink in the pictures.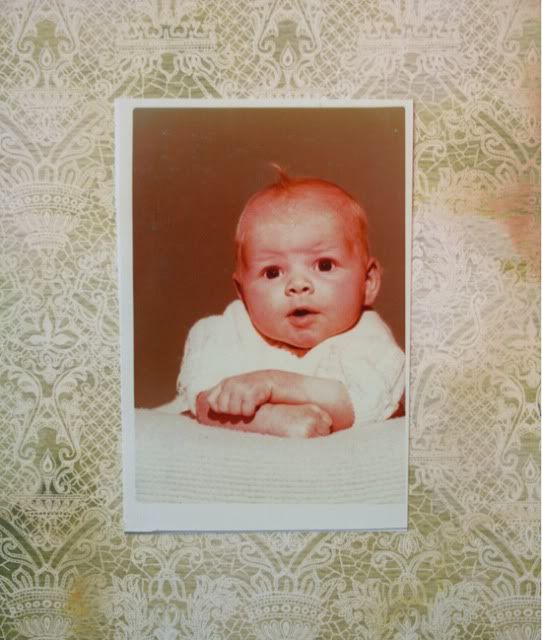 I liked this much better, but something was still "off". The personality of the paper felt too formal for a baby photo, so I tried another green patterned paper.
This was IT! I loved the soft pattern and the whimsy of the frog and caption "Once Upon a Time" printed on the paper.
I LOVED this piece of paper and I didn't want to cut it up to use it as a photo matte; so I made the decision to use this as my background and adhere my photos directly to it.
The circle shape printed on the paper helped me decide where to put my photos. I decided to adhere them to the right of it, thinking that later I could place my title and/or journaling in the circle.
Next, I needed to anchor my photos so they didn't look like they were floating in space. I chose a wide band of cream/white trim from the kit.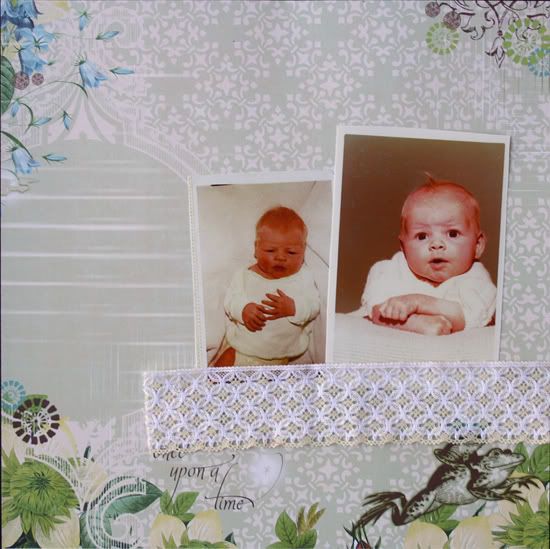 Good! I like that. Okay, next thing. I want this page to be soft, but this is a picture of a baby girl, so there definitely needs to be some pink in there.
I cut a strip of pink patterned paper and layered it on top of the trim. I really liked how that gave even more weight to my photo grouping and made it feel like it was grounded.
Next, I needed to add some whimsy . . . it was starting to feel a little too formal. So I added the buttons along the pink strip of paper. PERFECT!
I liked where my design was going, but still felt like the photo grouping needed some more definition. I didn't want to put another layer under my photos so I decided to frame them with a circle of patterned paper. I chose the light woodgrain pattern, because it had a different feel to the background paper. It shows up because it has a slightly different personality, but didn't call away too much attention, still letting the photos be the focus. I chose the circle shape because it softens the square edges of the photos and mimics the other circle printed on the background paper.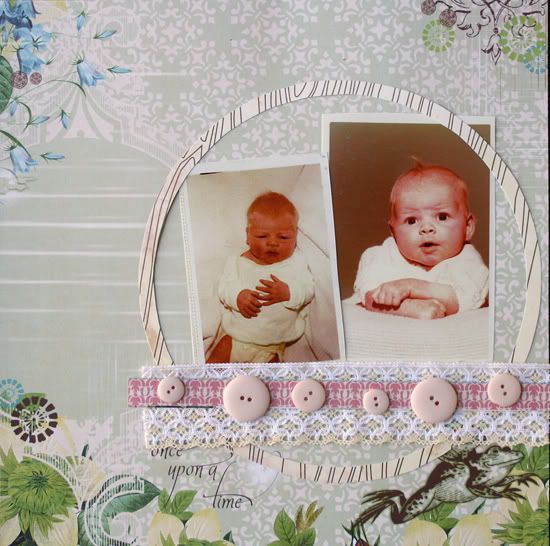 It still needed a touch of whimsy and MORE PINK! :) So I cut out some pink butterflies and scattered them here-and-there around my photo grouping for accents.
THIS FELT GOOD! This was my design. Now I could start glueing things down before hitting the title and other accents.
Before glueing everything down, I ran a border or brown stitching around the edge of the background paper to define it a bit. When I added the butterflies, I decided that they were an opportunity to add more dimension to my page, so I layered a second butterfly on top of the first ones, folding their wings up.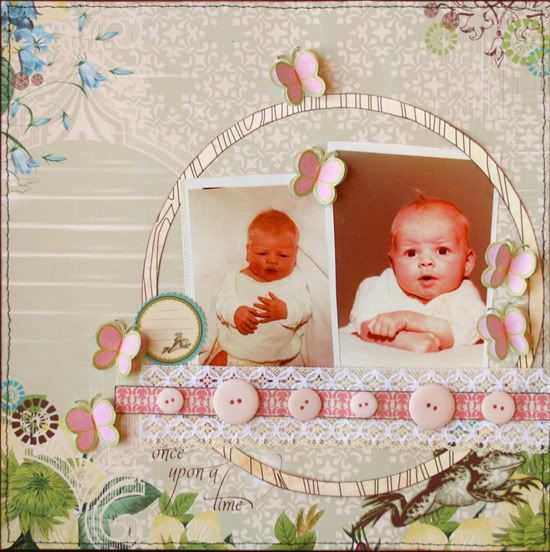 Initially I thought I would put my journaling and/or title in the circle off to the left of the photo grouping. I decided that all I needed for this page was a simple title and a date and age, there wasn't much more I needed to add. Therefore, I added a small journal spot to contain the info. and added my title along the edge of the circle.
I felt like my circle felt disconnected somehow from the rest of the page and added a flower rubon to the top right to transition the edge of the circle to the edge of the background paper. I also added a flower rubon to the bottom left of the grouping to transition the level of the butterflies to the printed flowers on the background paper.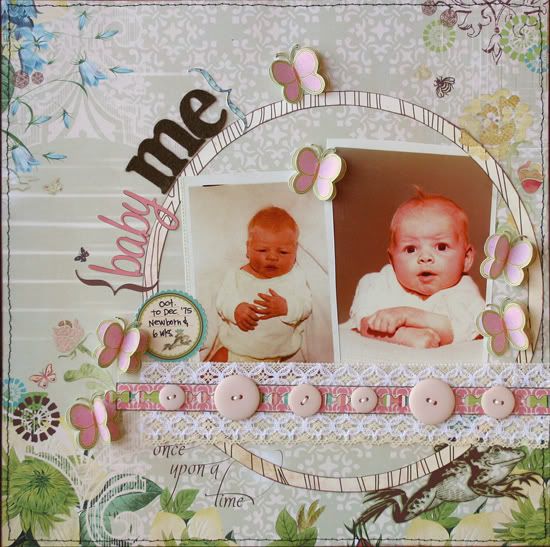 From here I felt like my page was pretty much finished. I liked how it came together and I could have left it like this.
After staring at it for a minute, I decided to add a little sparkle to the wings of the butterflies with Stickles dots. THERE! Now, it's done.
It has softness, texture, dimension, a sense of history, and whimsy; just what I wanted for this baby girl page! :)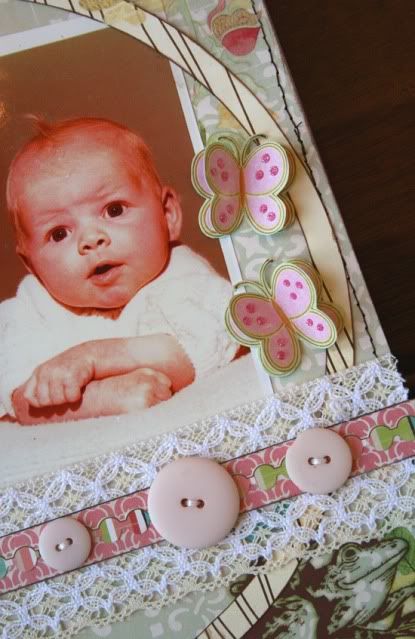 Thanks for coming by! :)
Jana