Thank you so much for the well-wishes for me and my family! We are finally getting to the tail-ends of all our colds and starting to feel so much better! THANK YOU!!! :)
I am so proud and ecstatic to say that I am now a
Scrapperie
Tres Chic Girl! :D Thank you, Sandi, for this fun opportunity!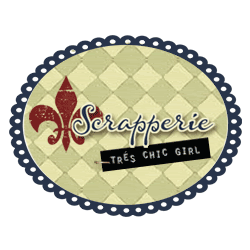 This is really going to be a unique team of designers! Sandi is trying a new approach to the traditional Design Team by having the Tres Chic Girls design once every 3 months and then welcoming THREE Guest Designers each month! I LOVE this concept and think it will be really fun to see different inspiration each month from all styles of scrappers!
If you have never heard of
Scrapperie
, you should know that they have a ROCKIN' Message Board! Tons of challenges, tons of inspiration and tons of fun! Infact, right now they are holding the
Fantastic February Contest!
All month long there will be games and challenges and opportunities to win great prizes! Come over and play!!!
Every month, Scrapperie offers a choice of FOUR different kits: The Essentials, The Extras, The Trimmings, and the Piece de Resistance.The Essentials kit is the main kit. The Extras and The Trimmings are add-on kits. And the Piece de Resistance is for the scrapper that wants it ALL!
Here are the January kits that are still available!
January - Take Time - The Essentials Kit - $30
January - Take Time - The Extras Kit - $20

January - Take Time - The Trimmings Kit - $10

January - Take Time - Piece de Resistance Kit - $57.50



For February, there is an AWESOME Mini-kit, the Love Is In the Air kit, for only $25! You can find out more about it here.
February Mini Kit - Love Is In the Air Kit - $25

Hope to see you there!
Jana